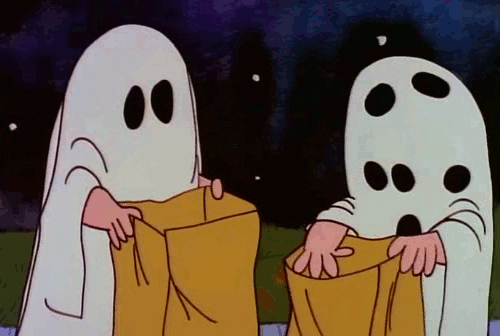 My wife and I coordinated our Halloween costumes this year, to correspond with It's the Great Pumpkin, Charlie Brown! She's Lucy, complete with red witch hat and green witch mask; both custom-made — my wife is just talented as hell like that. My outfit, on the other hand, is far simpler: Charlie Brown — to include the white sheet with way too many eye holes. A family friend commented to me (tonight, at the local ward party) that all I needed to complete my portion, was a football, and a paper sack filled with rocks.
I've use the sack-full-of-rocks analogy before, to describe what it's like being an aspiring author. Especially back in the days before dignified independent publishing existed. You either vanity-published, or you did the hard chore of sending your (paper!) manuscripts off to editors. As well as agents. In exchange for (paper!) rejection letters. Lots, and lots, and lots of rejection letters. I still have a fairly large three-ring binder, stuffed with all the paper slips I've ever received. As of 2016, I think my electronic rejections have reached or exceeded the paper number. Many hundreds, or more. I've lost count, to be honest. And they've not stopped, even with a robustly healthy publishing track record to my credit.
When you're new, it occasionally seems like Lucy is eternally yanking the ball away. No matter how hard you run at it, you can't connect. You just end up flat on your back, wondering what the hell is wrong with you, or your work. What's the issue? Do you really and truly suck? Or is the system somehow broken? Maybe, stacked against you?
The truth is that publishing is now easier than it's ever been. But success? In the words of Kevin J. Anderson, success is as hard as it always was. Maybe, I would add, harder? Because there are more people publishing prose — in the English language, in the 21st century — than at any other time in history. Thousands of new books and stories are launched every single day. The removal of editors and agents as the sole gatekeepers of the industry, means that literally everyone can take their books and stories directly to the marketplace. Which is a bit like having hundreds of new NASCAR drivers merge onto the track every hour, on the hour. And the track is infinitely wide.
It's enough to make even a competently optimistic author throw up her hands and utter, "Good grief!"
Here's the good news, as non-intuitive as it may sound. Getting rocks in your sack helps you get better.
No, really, it does. Even if you're an indie author. Because this is what forces you to work. To not stay put, churning at the same level of authorial acumen.
My hundreds of rejections have been hard. They're still hard. But they're a reminder to me that there is always room for improvement. And especially in the beginning, when I honestly and truly did not know what I was doing — I still have many of those old manuscripts, believe me, I know how appropriate it is that they never saw print! — rejection was a limiter against which I had to push myself. And it also taught me humility. In addition to appreciation for the eventual wins, when they came.
But only after my sack had filled up with rocks, year after year.
Yeah, I get it. No sane person gets a sack full of rocks every single year, and doesn't experience moments of severe doubt. I was getting ready to throw in the towel by 2005 — after over a dozen years of rejection — when my wife said to me, "If you let this dream go, you have to replace it with an equal or better dream." I ultimately couldn't do that, because I couldn't turn off the story-generator in my head. Even if my storytelling chops weren't yet good enough to take what was happening in my head, and smoothly translate it to words. So I redoubled my effort. And I switched up my style. Moving from third-person to first-person — especially for short stories — was a huge win for me. Uncomfortable as hell, at first. But it was the necessary move that helped me bump my short work into entry-level professional territory. So that by 2010 I had stuff under contract, with more on the way, and a bona fide career was launched.
And because I still had all those sacks filled with rocks, I could look at them and relish the (then, new) candy suddenly being thrown my way.
I still relish the candy, because it's more common now, and of a higher quality, more often. I'd not appreciate any of this, without my requisite sacks of rocks — earned over my proverbial first million words of "practice" prose.
So don't feel like it's a thankless chore, if you're still getting rejections, or your indie work is dudding in the marketplace. For whatever reasons, you're still not connecting (yet!) with that football. It may take you a few more (or a lot more?) manuscripts, to hone your intuitive storytelling capabilities to the point that your prose is capable of doing what you need it to, in order to consistently entertain an audience. Be it the audience of the editor or agent, or the audience of the open marketplace. Again, thousands of new "drivers" merging onto the NASCAR oval every day. You're not alone. Most of those people won't stick. Bottom line. They won't get traction, and will move on to some other endeavor. The way to win on the oval, is to simply keep going around and around and around. Ensure that you never take yourself out of the race. Keep showing up on those porches and front stoops, your paper sack open and ready to receive what's coming to you. It doesn't make you a blockhead, if you try and fail. You're only a blockhead if you try, then fail, and assume that trying was pointless. Or that somehow, magically, everyone else who is getting candy, knows the secret launch codes or something.
There's no secret. Just effort. And patience.
Don't expect it all to come to you at once. Accept the setbacks and the mistakes. They are only fruitless if you don't learn from them — if they have not shown you some way you can do better.
Because when the wins do come . . . believe me, you will experience satisfaction unlike almost any other.